Air Filters
Here at D&G Filters we manufacture and supply a large variety of specialist Air Filters, such as Donaldson Torrit, Mann & Humell, Mahle and Dustcheck. We are also able to offer different kinds of filters to fit your personal requirements.
We manufacture an Oil-wetted air cleaner filter - our Part Number is DGW132671.
We supply air filters for use on compressor air inlet, air material handling systems, electric motor cooling, air breathers, engine air inlet and vacuum pump air inlet.
D&G supply a number of different medias for the filters as per customer requirements from paper, polyester, polyester PTFE, nylon mesh and stainless steel mesh.
We have filter media available in all grades and thicknesses, many from stock in rolls or pads. Pads can be made to fit customers size or standards requirements. Reticulated foam in a range of ppi grades and again in roll form or pads. Spray booth filter sheets available in a range of lengths and widths on request.
Key Applications
Plastic Injection Moulding, Brick Companies, Bakeries, Coal Mines and Metal Foundries.
Air Oil separators
D&G offer a range of alternative vacuum pump separators, compressor air oil separators and compressed air filter elements.
Vac pump separators.... we have all the major brands available including Busch, Leybold, Reitschle and more.
Compressed air oil separators.... Used on hydravane and mattei compressors, our separators offer minimal oil carry over.
Compressed air filter elements .... Our compressed air filter ranges are suitable for all major housing including Hankinsons, Walker and Atlas Copco.
D&G also have the option to manufacture bespoke products tailored to our customer requirements.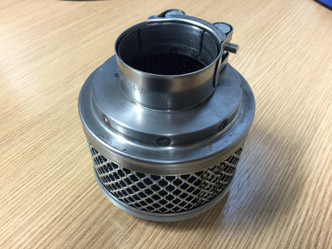 DGW132671